GTK is known for its excellence in career development opportunities
Małgorzata Szlachta
D.Sc. (Tech)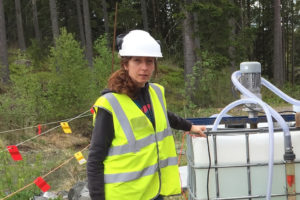 Małgorzata Szlachta joined the Geological Survey of Finland over one year ago. She is a Senior Scientist in the Circular Economy Solutions Unit in the Kuopio office.
Before joining GTK, Małgorzata worked as an assistant professor at the Wrocław University of Science and Technology in Poland. She obtained her postdoctoral experience from Utrecht University in the Netherlands and has conducted research in Malaysia and France. In GTK, she is working on subjects related to solutions for water treatment, reuse and the recovery of valuable elements for the extractive industry sector.
"I have come from academia, where I spent the last 15 years focusing on scientific work and being involved in academic activities. I have a background in environmental engineering with expertise in the field of water and wastewater treatment technologies. In GTK, I enjoy working with specialists with different backgrounds. Working in a cross-disciplinary environment is inspiring: it gives us the possibility to learn something new every day and to look on our research from a different perspective," she says.
Małgorzata thinks she can contribute to increased cooperation and knowledge transfer between academia and industry.
"Communication between universities and the industrial sector is sometimes limited, and for this reason many brilliant ideas never go further than the wall of the universities. I am glad that in GTK there are many cross-collaboration opportunities not only with the mining sector, but also with other related fields. The practical applicability of my research is of high importance for me and GTK facilitates it."
Małgorzata finds GTK to be a workplace with a positive atmosphere and high working standards.
"In my opinion, GTK is a well-organized institution and operates efficiently. The internal communication structure, work-related requirements, instructions on how to make specific arrangements are quite clear and are being continually improved. The management and administration staff are very friendly and supportive of their non-Finnish speaking employees. I find GTK a good place to work with a pleasant atmosphere.
Małgorzata appreciates the career development opportunities GTK offers.
"GTK supports professional development by offering a variety of opportunities to employees. For me, as a scientist and an engineer, life-long learning is a natural process. I've been taking specialized training in areas where I would like to enhance my competencies. I am actively participating in knowledge exchange events, conferences and workshops to stay up to date. I also take Finnish language classes as part my personal development," she says.
Małgorzata thinks that GTK's international recognition adds good value to her workplace.
"GTK is widely known and recognized around the world, attracting quite many specialists from abroad. It is essential for me to be part of the international community. I feel that my work within water treatment, reuse and recovery contributes to the international dialogue and advancement in these fields," she says.
Małgorzata thinks GTK's future looks bright.
"We have a new strategy and organization where environmental aspects are even more important. In my opinion, these changes were necessary to future-proof GTK and form diverse working teams able to tackle new environmental challenges in the mining sector," she says.
Małgorzata says getting satisfaction from the effects of your work is a prerequisite to a happy life.
"Working in GTK is an excellent continuation of my career. I get satisfaction from my work because here I feel that my work matters and I can have an impact on our common future. I think GTK is a workplace for creative and ambitious persons who are looking for new challenges and want to work in a motivating environment.