Webinar: Impacts and opportunities of COVID-19 on mining regions and cities
Date: 23.06.2020 - 23.06.2020
Location: Online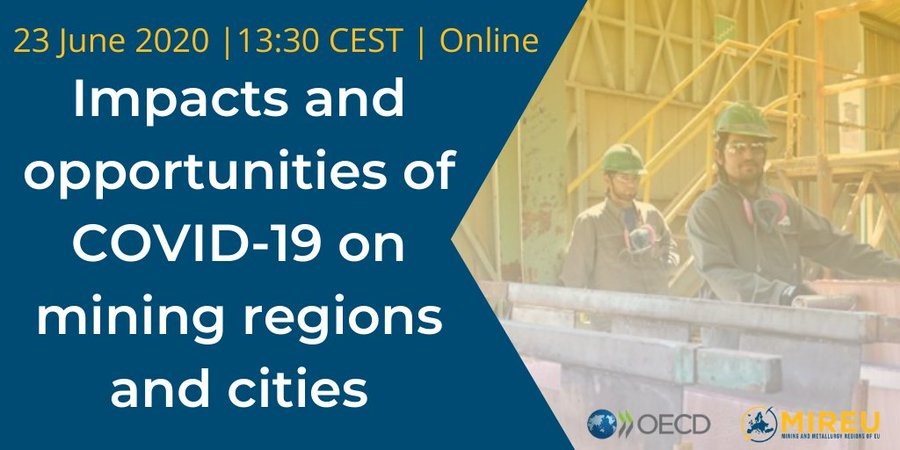 MIREU & OECD present an online discussion on the impacts and opportunities of COVID-19 on mining regions and cities! Participate in the virtual discussion!
23 June 2020 13:30 – 15:30 CEST (Paris time) Zoom meeting
Regional representatives, please fill out this online survey which aims to collect and
bring together the impacts, actions and opportunities arising from Covid19 in Mining Regions and Cities. It only takes 4 minutes.
Please complete the survey by the 18th of June, the results will be presented on the 23rd during the meeting.
WHAT IS THE ISSUE?
The COVID-19 pandemic is affecting regions and cities specialised in mining and extractives activities in different ways. The mining sector, which is highly dependent on commodity markets, is especially vulnerable to the effects of external shocks, in terms of jobs, income levels and living standards.
Mining regions and cities are exposed to the shock effects of COVID-19 on both the supply and the demand side. On the production side, lockdown measures have influenced working conditions and input supply chains, potentially affecting production levels. On the demand side, the global drop of manufacturing and construction activity can reduce the demand for minerals and metals, which may lead to disruptions in the value chain. These combined effects can influence productions levels and eventually jobs, income and well-being in mining regions and cities.
WHY ATTEND THE WEBINAR?
The virtual discussion will explore the impacts of the coronavirus pandemic on mining regions and cities, policy responses and opportunities that can emerge over the short and long term. This virtual discussion will serve as a platform to share experiences and best practices by OECD mining regions and cities in the context of the COVID-19 crisis.
The main topics for discussion are:
What is the short term and long term economic impact on mining regions and cities and on well-being as a result of the COVID-19 crisis?
What have been the different responses to mitigate the effects of the crisis and maintain well-being across mining regions and cities?
How can activities be recovered promoting inclusive growth in the new normality?
What are the opportunities and policy responses to harness resilience in mining regions?
HOW TO CONNECT?
A more detail agenda will follow in the coming days. If you wish to register, you may do so directly by clicking here.
For any questions, please contact:
MIREU: juha.kaija@gtk.fi; kaisa.turunen@gtk.fi
OECD: Fernando.RIAZAFERNANDEZ@oecd.org
With best regards,
MIREU & OECD RURAL TEAM