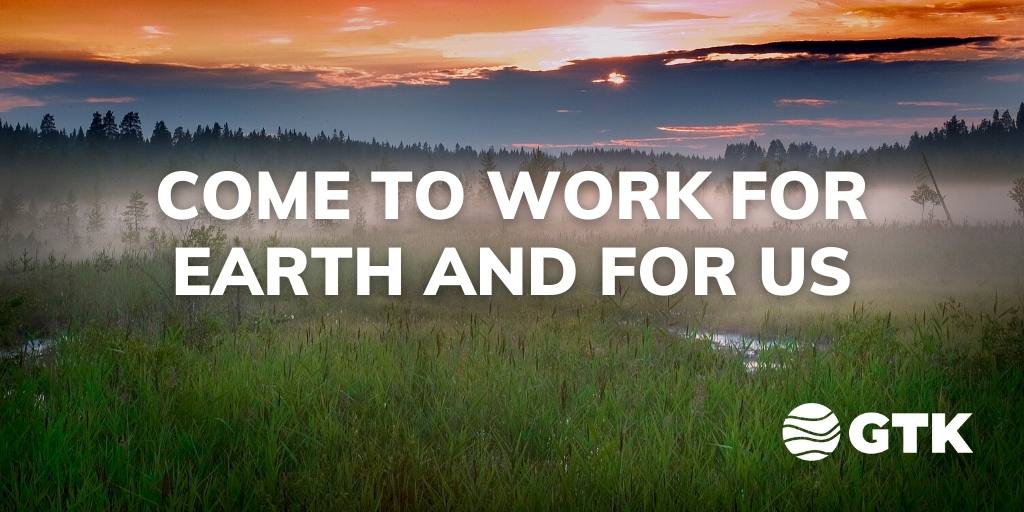 Research Professor or Associate Research Professor (Quaternary geology)
Date published

19.05.2023

Application deadline

09.06.2023 16.15 (EET)

Cities

Espoo, Rovaniemi, Kuopio, Kokkola, Outokumpu

Työavain for Valtiolle.fi -service

32-760-2023
At GTK, we aim to work for the Earth and for Us. We conduct objective research to find solutions to challenges posed by climate change, the energy transition, and the circular economy. Our 400 experts are specialists in the mineral economy, green energy, water management, the environment, and digital solutions. Together with our Finnish and global partners, we are building sustainable and carbon-neutral future. GTK is a research organization governed by the Finnish Ministry of Employment and the Economy. www.gtk.fi/en

Research Professor or Associate Research Professor (Quaternary geology)
The Geological Survey of Finland (GTK) is looking for a Research Professor or Associate Research Professor in Quaternary geology, specialising e.g. in glaciated terrains, glacial sediments and glacial landforms. You will work in the Water Management unit and build collaboration with GTK's researchers and partners. Your office is in Espoo, Rovaniemi, Kuopio, Kokkola or Outokumpu and you can also work remotely flexibly in Finland.
Your task will be to produce scientific understanding on the formation processes and properties of glacial sediments and landforms. The research provides a basis for land use and building planning, as well as the sustainable use of geological natural resources in associated application areas. You will also participate in the development of geological information resources, our thematic maps, modelling and the interpretation of data.
Considering your career stage, you have a good ability to seek research funding, as well as prepare national or international science and innovation projects in the field and take responsibility for implementing them. The tasks entailed in the position also include guiding and supporting the development of GTK's competences in Quaternary geology and participating in the development of customer-oriented applications. You know how to find new research perspectives and inspire others to find and solve topical research challenges.
Our modern, well-equipped working environment includes excellent research infrastructures
(e.g. https://www.gtk.fi/en/research/research-infrastructure-and-facilities/).

What we expect
• As a qualification requirement, a doctoral degree in geology or in other relevant scientific discipline and a strong background in the field.
• Internationally recognised expertise in Quaternary geology.
• The verified ability to identify and solve new research questions in the field of geoscience that are important for society.
• Strong motivation for research and the development of competences and research methods.
• Established networks with international research groups.
• Excellent English skills.
• Excellent social interaction, networking and teamwork skills.
We appreciate
• Experience in mapping of Quaternary sedimentary deposits and/or survey of Quaternary sedimentary deposits in the regional scale.
• Experience in the use of geophysical methods and/or remote sensing methods in Quaternary geology research.
Experience in the use of expertise in quaternary geology for climate change research, mineral exploration, groundwater management or land use planning.
What we offer
GTK is an international and diverse work community where everyone's input is valued. Our employees have the opportunity to influence their own work and work remotely in Finland. At GTK we are determined to renew our operations and expertise. We take care of our employees' wellbeing with our wide range of activities that support wellbeing at work. In addition, we offer central government holiday benefits and a modern and multi-location work, such as flexible working hours. We offer relocation services (eg. help with permits and settling in) for employees moving to Finland from abroad. Find out more about us: www.gtk.fi/en/careers-at-gtk/
Information about pay
The total salary at the beginning of employment will be EUR 5475-5835 per month for Associate Research Professor and EUR 6421-6843 per month for Research Professor. The salary is determined by the competence and the career path phase of the person selected for the position.

Security clearance
We may conduct a personal background check on the person selected for the job with the person's consent (security clearance act 726/2014). For more information about the security clearance process and the rights of subjects of background checks, please visit www.supo.fi/en

Other details
The selected person will be appointed for a permanent position as a senior researcher and a professor for five years, after which it will be possible to continue for another five-year period or receive a permanent professorship. The starting date is 1.1.2024 or by agreement. The position includes a probationary period.
For further information, please contact Director in Science and Innovations, Dr Saku Vuori, tel. +358 400 249085, reachable on 26.5 at 12-13 (EEST) or Head of Unit, Eeva Käpyaho, reachable by e-mail eeva.kapyaho@gtk.fi.
The diversity of our staff is enriching for us, so we encourage many kinds of people from diverse backgrounds to apply for our positions.
Please send your application with your motivation letter, CV and the list of publications through the valtiolle.fi-service latest on 9.6.2023 at 16:15 (EEST), using service key 32-760-2023.
The interviews are scheduled to be organized in June-August.
The recruitment process will include an aptitude assessment and a scientific assessment, involving a scientific lecture and external peer assessment.
Please note that the names of the applicants and the applications with attachments are public.
Apply for the position