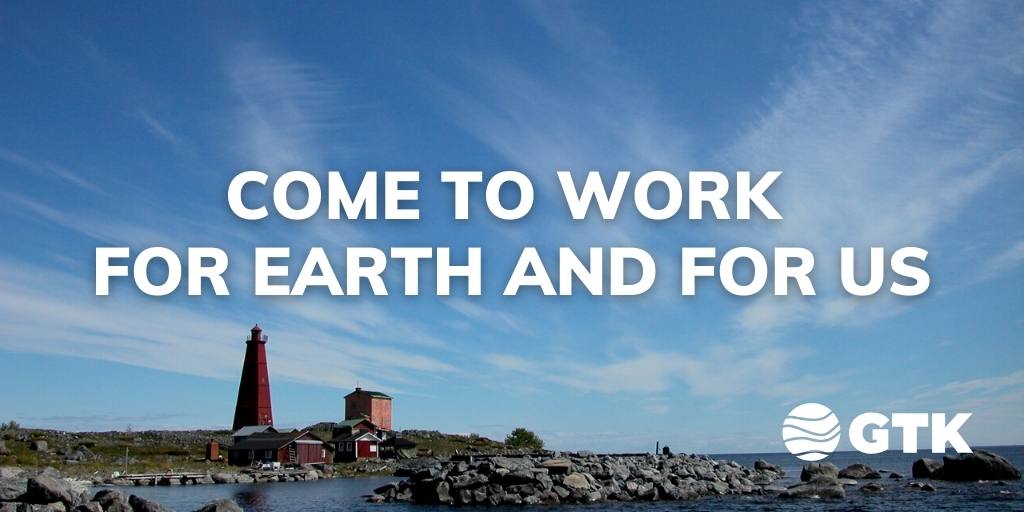 Research Scientist (Postdoc) for electrochemical recovery of phosphorous from water
Date published

07.09.2023

Application deadline

06.10.2023 16.15 (EET)

Cities

Kuopio

Työavain for Valtiolle.fi -service

32-1107-2023
At GTK, we aim to work for the Earth and for Us. We conduct objective research to find solutions to challenges posed by climate change, the energy transition, and the circular economy. Our 400 experts are specialists in the mineral economy, green energy, water management, the environment, and digital solutions. Together with our Finnish and global partners, we are building sustainable and carbon-neutral future. GTK is a research organization governed by the Finnish Ministry of Employment and the Economy. www.gtk.fi/en
Research Scientist (Postdoc) for electrochemical recovery of phosphorous from water
Geological Survey of Finland (GTK) is seeking a Research Scientist in the electrochemical separation of phosphorous from waters contaminated with toxic metals. The position is within the Circular Economy Solutions unit, and your office will be in Kuopio, Finland.
In this position, you will be part of a research project called "MinPhos", funded by the Academy of Finland. The MinPhos project investigates the potential of utilising waste streams rich in phosphorous produced in large quantities globally. The MinPhos project aims to develop an innovative approach for separating and recovering phosphorus from contaminated waters from phosphogypsum pile areas in a sustainable and economically viable manner.
Tasks associated with this position are as follows:
Contribution to the development work on the novel electrocoagulation (EC)-based system with new electrodes    prepared with the 3D printing technique and coated by the USPLD.
Experimental evaluation of the performance of the EC in separating toxic metals leached into the water from phosphogypsum stacks followed by selective recovery of phosphorus by developed recyclable adsorbents.
Analysis of the interactions between the various operational EC parameters and optimising the process employing statistical tool design of experiments.
Laboratory testing of the hybrid EC-based system for phosphorus recovery from real water samples.
Conducting analytical measurements, collecting research data and data interpretation.
Producing high-quality outputs, specifically to write at least one peer-reviewed scientific publication per year as the first author and present results at the conferences.
Progress reporting to the project principal investigator.
Traveling for research visits to collaborating universities abroad.
Although this position already has an outlined research plan, you can influence the content of the job if committed to achieving the broad goals of the MinPhos project.
What we expect
A doctoral degree in environmental engineering, chemical engineering, chemistry, or a similar discipline.
Extensive knowledge of environmental chemistry.
Proven research experience (doctoral thesis, publications) in topics related to electrochemical treatment systems.
Hands-on experience in electrochemical laboratory workstations, common analytical measurements, and surface characterisation methods.
Ability to plan and execute tasks effectively through modelling and laboratory experimental work.
Excellent written and oral communication skills in English.
You are highly motivated, creative, eager to tackle scientific challenges and enthusiastic about working in a team-oriented international environment. You have good cooperation, interaction, and networking skills and ability to work independently in the laboratory and with team members with different backgrounds.
We appreciate
Knowledge of physico-chemical water treatment technologies.
Familiarity with life cycle assessment.
Driving licence (category B).
Interest in studying Finnish.
Who we are and what we offer
GTK is an international and diverse work community where everyone's input is valued. Our employees have the opportunity to influence their own work and work remotely in Finland. At GTK we are committed to renew our operations and expertise. We take care of our employees' wellbeing with our wide range of activities that support wellbeing at work. In addition, we offer central government holiday benefits and a modern and multi-location work, such as flexible working hours. We offer relocation services (e.g. help with permits and settling in) for employees moving to Finland from abroad. Find out more about us: https://www.gtk.fi/en/careers-at-gtk/
Information about pay
The total salary at the beginning of employment will be EUR 3696 – 3939 per month. The salary is determined by the competence of the person selected for the position.
Security clearance
We may conduct a personal background check on the person selected for the job with the person's consent (security clearance act 726/2014). For more information about the security clearance process and the rights of subjects of background checks, please visit www.supo.fi/en
Other details
The position is fixed term for 3 years. The starting date is 1.1.2024 or by agreement. The position includes a probationary period.
For further information, please contact the principal investigator of the MinPhos project, senior scientist Małgorzata Szlachta, email: malgorzata.szlachta@gtk.fi, tel. +358 29 503 3645 or your future supervisor Emmi Heikkilä, email: emmi.heikkila@gtk.fi, tel. +358 29 503 0094.
The diversity of our staff is enriching for us, so we encourage many kinds of people from diverse backgrounds to apply for our positions.
Please send your application in English through the valtiolle.fi-service latest on 6.10.2023 at 16:15 (EEST), using service key 32-1107-2023.
The application should include the following information/appendixes:
Cover letter.
Curriculum vitae.
List of publications with DOI (do not attach copies of your publications).
Statement of research interests that includes your accomplishments and experience that prepared you for this position.
Copy of the original doctoral degree certificate (when necessary, official translation to English). If the degree is pending during the recruitment process, please provide an official notification from your university with the estimated date of your doctoral defence (do not attach any other certificates).
Contact information to two referees who may be contacted to give you a reference (do not attach copies of reference letters).
The interviews will be conducted remotely and scheduled at the end of 2023. Candidates selected to interview may be requested to provide a copy of the doctoral thesis.
Please note that names of the applicants and the applications with attachments are public.
Apply for the position