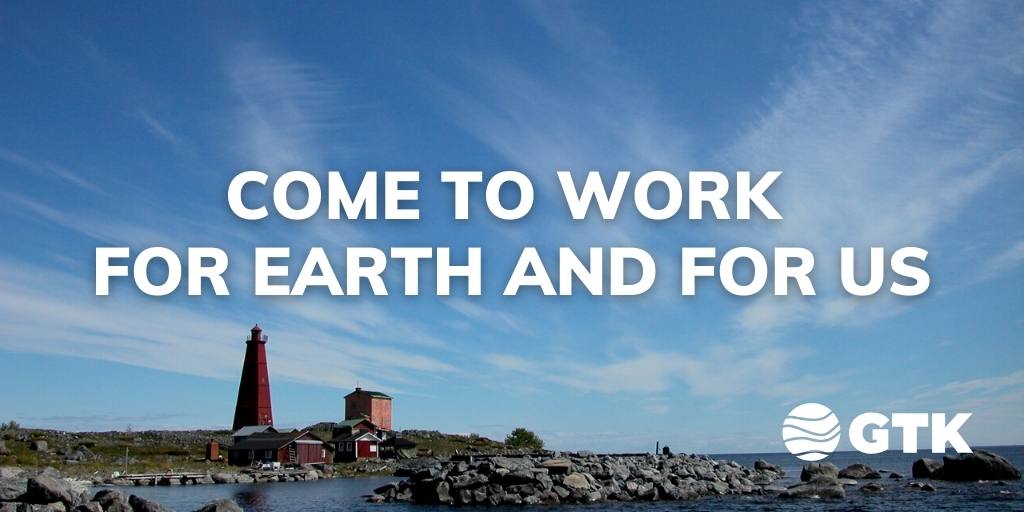 Scientist/Senior scientist (geoinformatics)
Date published

10.03.2023

Application deadline

30.03.2023 16.15 (EET)

Cities

Rovaniemi, Kuopio, Espoo

Työavain for Valtiolle.fi -service

32-446-2023
At GTK, we aim to work for the Earth and for Us. We conduct objective research to find solutions to challenges posed by climate change, the energy transition, and the circular economy. Our 400 experts are specialists in the mineral economy, green energy, water management, the environment, and digital solutions. Together with our Finnish and global partners, we are building sustainable and carbon-neutral future. GTK is a research organization governed by the Finnish Ministry of Employment and the Economy. www.gtk.fi/en
Scientist/Senior scientist (geoinformatics)  
The Geological Survey of Finland (GTK) is looking for a scientist/senior scientist for the Information Solutions unit. Your office will be in Rovaniemi, Kuopio or Espoo and you can also work remotely in Finland. Your assignment will be utilizing machine learning applications for data analysis of geological, geophysical, geochemical, remote sensing and close-range sensing data. You will work in various domestic and international projects as a member of teams which are developing new GIS applications for using geodata in mineral potential assessment, environmental applications, or other applications of spatial data analysis in geosciences. You are also participating in funding applications and publishing research results. You will be developing and applying machine learning methods for geospatial data-analysis and collaborating with the geoinformatics team members and with experts from other GTK units. You will be responsible for developing the machine learning methodology together with the geoinformatics. Depending on the experience and competence of the chosen person, the task may also include the responsibility for developing methodological applications and leading work packages in projects.
You will be part of the 60-person Information Solutions unit which processes geodata into digital data products and services. The geoinformatics team is composed of about ten experts.
What we expect
PhD degree in the applicable field of science
Practical experience and skills in using machine learning methodologies and applicable programming languages (e.g. Python, C++)
Experience in using the common machine learning libraries (e.g. TensorFlow, PyTorch, Scikit-learn, OpenCV, Pandas, Jupyter) and understanding of the related data-analysis methods with ML
Understanding and knowledge of methods such as deep neural networks, KnN, regularized least squares, random forests, geographically weighted regression, inverse distance weighting, Kriging and Gaussian processes
Experience in using high-performance computing platforms
Capability of reporting, publishing and communicating research results independently and as a team member
Fluent written and spoken English skills
Readiness to travel and participate in international projects
Capability of coordinating team work productively
You are development oriented and like generating ideas. You have good cooperation, interaction, and networking skills. In addition, you work well under pressure and are able to prioritize matters.
We appreciate
Practical experience in geoinformatics and using spatial data analysis methods
Higher education degree in geosciences or mathematics
Knowledge of basics of statistics
Activity in international networking and scientific communication
Skills in Finnish language
What we offer
GTK is an international and diverse work community where everyone's input is valued. Our employees have the opportunity to influence their own work and work remotely in Finland. At GTK we are determined to renew our operations and expertise. We take care of our employees' wellbeing with our wide range of activities that support wellbeing at work. In addition, we offer central government holiday benefits and a modern and multi-location work, such as flexible working hours. We offer relocation services (eg. help with permits and settling in) for employees moving to Finland from abroad. Find out more about us: www.gtk.fi/en/careers-at-gtk/
Information about pay
The total salary at the beginning of employment will be EUR 4084–4951 per month. The salary is determined by the competence of the person selected for the position.
Security clearance
We may conduct a personal background check on the person selected for the job with the person's consent (security clearance act 726/2014). For more information about the security clearance process and the rights of subjects of background checks, please visit www.supo.fi/en
Other details
The position is permanent. The starting date is 1.5.2023 or by agreement. The position includes a probationary period.
For further information, please contact your future supervisor Head of Unit Katja Lalli, tel. +358295034159 reachable on 24.3. at 13-16 (EET) and on 29.3. at 9-11 (EET) or Research Professor Vesa Nykänen tel. +358295034306 reachable on 14.3. at 9-12 (EET) and on 21.3. at 9-12 (EET).
The diversity of our staff is enriching for us, so we encourage many kinds of people from diverse backgrounds to apply for our positions.
Please send your application with your motivation letter in English through the valtiolle.fi -service latest by Thursday 30.03.2023 at 16:15 (EET), using service key 32-446-2023.
The interviews are scheduled to take place in April.
Please note that names of the applicants and the applications with attachments are public.
Apply for the position