What Does Sustainability Mean for Us?
Solutions based on geological expertise and geological data provide answers to challenges related to global megatrends, such as climate change, urbanisation, growing energy needs, transformation of transport, adequacy of clean water, and technological development. Geological expertise and solutions based on geological knowledge can be used to produce sustainable growth in Finland and globally.
In 2021, we summarised our purpose as follows: we offer solutions based on geoscientific knowledge to society and companies to accelerate the transition to a sustainable, carbon-neutral world. From this basis we have chosen five UN Sustainable Development Goals (SDGs), which we can most significantly promote with our actions.
We have published our first Sustainability report on the year 2021. With our sustainability actions we want to relate the work that we do, direct our operations towards promoting sustainable development, be a good employer, and identify the areas where we can do even better.
Our sustainability is integrated with our Code of Conduct and with the planning and monitoring of obligatory legislation and guidance.
For Earth and for Us
Sustainability Report 2021
In the 2021 Sustainability Report we relate our actions to promote sustainable development and the sustainable use of natural resources.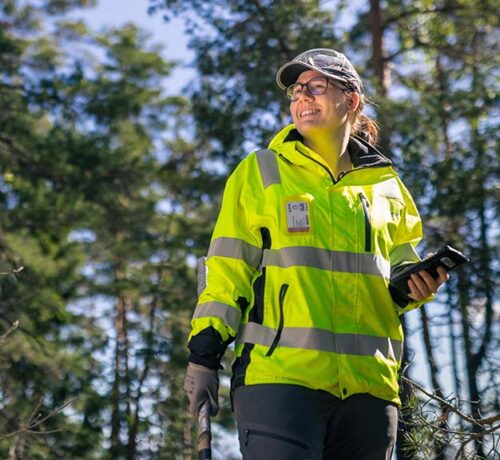 Code of Conduct
Geological Survey of Finland`s Code of Conduct sets out our key operating principles. It describes our principles of conduct and what our policies mean for our work and our interactions with stakeholders.