Ella Virta Studied the Significance of Bedrock Surveys in Geothermal Energy Planning: "Interpreting the structural features of the bedrock can reduce risks associated with energy well drilling"
The increasing need for energy and the replacement of fossil energy sources with renewables have made geothermal energy, obtained from the ground and bedrock, into a significant clean energy option. Geothermal energy is already being used effectively, but the aim is to also expand its use to more challenging areas.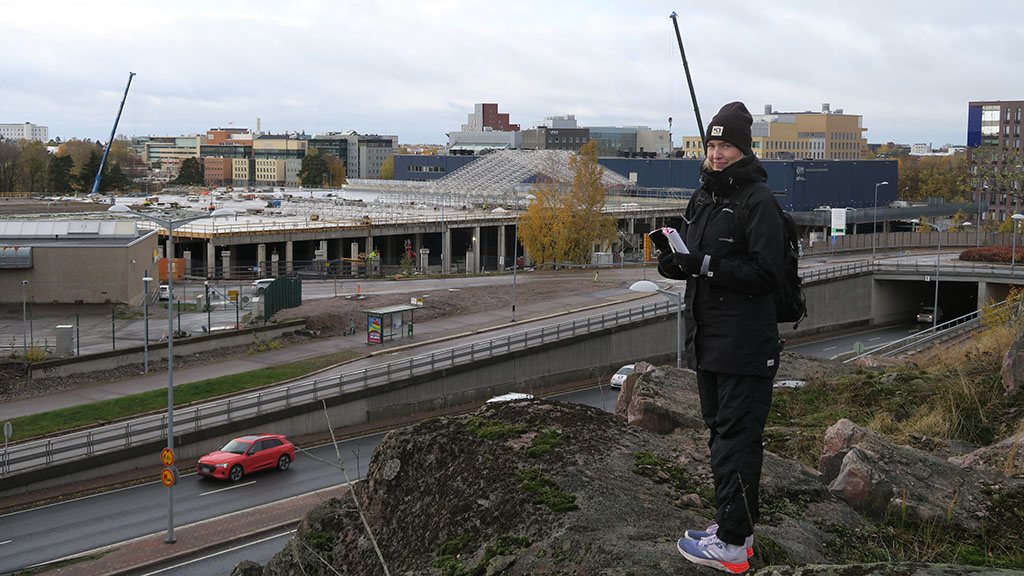 The effective – albeit expensive and laborious – geological methods that are used to identify risks associated with geothermal wells and to select their location have often constituted bottlenecks. It would be a leap forward in the development of geothermal energy generation if more affordable and feasible aboveground surveys could be used more effectively in identifying potential locations for geothermal wells.
Ella Virta decided to study these questions in her Master's thesis 'Correlation of bedrock outcrop structures with subsurface data – with emphasis on the needs of geothermal energy research'. The starting point was to identify how reliably data based on aboveground bedrock surveys can be used in the selection of energy well locations and how all these data correlate with data obtained deep from the bedrock.
Virta wrote her thesis for the Department of Geography and Geology at the University of Turku in cooperation with the Geological Survey of Finland GTK, Helen Ltd. and experts from other organisations. "Cooperation was really smooth. I've always been interested in geothermal energy and its potential uses in energy generation. Even though the thesis also covered structural geology, a field of geology more challenging for me, I took up the challenge. It was great to apply theory to practice," explains Virta.
In her thesis, Virta was able to show that structural geology interpretations can be used to assess underground structures and therefore reduce risks associated with energy well drilling. This may have a significant impact when planning geothermal energy production.
Bedrock fracturing can be identified with structural geological surveys
The research started with Helen`s plan to increase its fossil-free energy generation by drilling a geothermal well next to its heat plant in Helsinki`s Ruskeasuo. The targeted depth was 2.5 kilometres. However, the challenging energy well drilling process had to be stopped at 865 metres due to significant bedrock fracturing.
GTK's experts analysed the drilling chip samples taken from the energy well and measured the borehole temperature profile. At this stage, Virta started to survey the bedrock for her thesis by collecting structural geology data significant for drilling. During the bedrock survey, highly intense fracturing was discovered in the area's varying rock units.
"The significant east-west fault line to the north of the geothermal well is the most interesting geological structure in the area. Based on multiple field measurements, and 2D and 3D data, we can see that the fault is dipping about 80o towards the geothermal well in the south," says Virta.
Being easily identifiable aboveground, the fault line can also be seen in reflection seismic data produced over a 10-kilometre distance from Laakso to Pirkkola. The fractures discovered in the geothermal well are most likely linked to the fault line. The fault line intersected the well at the depth at which drilling had to be stopped. In addition, measurements conducted in the well show that the variation in temperature curve at around 800 metres may also be linked to the fractures. Unfortunately, the well's geophysical measurements and visual imaging failed, which is why no data about the orientation of the structures intersecting the well were collected.
The reliability of aboveground methods and their correlation with underground data could not be fully proven in Virta's thesis due to the failed geophysical measurements. However, the study proves the significance of comprehensive bedrock surveys. Bedrock surveys serve to identify relevant geological structures that need to be considered when selecting locations for geothermal wells, even though such selections cannot be wholly based on structural geological surveys.
Cooperation with universities to train new professionals
"Writing the thesis was a multifaceted learning process for me. It was a wonderful opportunity to work with true professionals and learn more about cooperation between companies and research organisations. The process also taught me to look at things from different perspectives and gave me working life experience," says Virta.
"Geothermal energy is a fairly new field of applied geology in which no institution in Finland provides education. However, the growing market means that more professionals are needed all the time. This is why we have to train professionals in geothermal energy both for GTK and for the industry as a whole in Finland. Cooperation with universities in the form of Master's theses is welcomed by universities, GTK and especially young researchers themselves. It is important to engage skilled students in geothermal energy research," says Teppo Arola, Chief expert in geothermal energy at GTK.