Has the geological mystery in Koillismaa been solved?
The Koillismaa Deep Hole project reached a depth of 1,500 metres on 1 December 2020. Just before reaching this depth, the rock type changed from relatively common reddish granite to dark green-tinged plutonic rock. The rock type analysed from the drill core sample probably represents the cause of a gravitational anomaly, which has been a mystery to researchers for decades.
Solving a geological mystery
The roughly 60-kilometre long gravity anomaly located deep in the bedrock, has been a mystery to geologists for decades. As no physical samples of the deep-lying mystery have been available, interpretations have been based on various geophysical measurements and models.
The Koillismaa Deep Hole project has now been able to obtain a drill core sample from this mysterious location.
The sample drilled deep from the bedrock turned out to be peridotite, a magnesium-rich ultramafic rock.
"What makes this finding so special is that this sample material is a missing piece in the Finnish bedrock puzzle", says Jukka Konnunaho, geologist at the Geological Survey of Finland (GTK).
The rock type identified during drilling may represent the same geological units as rocks in the Näränkävaara and Syöte areas. What makes this particularly interesting is that similar rock types are known to contain mineral deposits enriched in platinum group elements, nickel and copper, as well as chromium, vanadium, iron and titanium.
Similar peridotites can be found from various places around the globe, and also in Finland. While this is no rarity, it speaks volumes to geologists about geological processes and related phenomena. These peridotites were formed billions of years ago from material melted tens of kilometres below the earth's surface. At that time, the molten material penetrated the earth's crust, forming magma chambers, or erupted on, or close to, the surface in the form of lava or vein formations. These events are part of the ancient history of Finnish geology from more than 2,000 million years ago.
"We are very excited about the preliminary results. The Koillismaa Deep Hole project has already proven that modern technology also allows us to study deeper parts of the bedrock in a whole new way", says Tuomo Karinen, senior scientist at GTK.
The next steps, in addition to completing the drilling, include a more detailed analysis of the sample material and, for example, the determination of the age of the rock type and the composition of rocks using analytical methods.
Deep hole drilling is a challenge
"The broken bedrock was a challenge over the first kilometre", says Aleksi Salo, project manager at GTK.
Fissures and broken sections may result in drill steel jamming or the loss of water pressure. Water pressure flushes the hole clean of rock material, ensuring continuous lubrication of the diamond drill and the free rotation of drill steel. Over a distance of three kilometres, the drilling rig needs to support more than 20 tons of drill steel. Drilling such a deep exploration hole is a unique project globally.
As drilling progresses, the hole is stabilised with cement to keep it open for as long as possible to conduct further research and to provide the best possible conditions when drilling the last two kilometres.
The best possible equipment
"We will switch to our latest and most powerful drilling rig to complete the hole at the Koillismaa Deep Hole site. This K10 model can drill to a depth of up to 3,500 metres", says Aleksi Autti, CEO of Arctic Drilling Company (ADC).
In Europe, a hole this deep has not previously been drilled using conventional diamond drilling equipment. All machine components have been designed to be much stronger than in a normal drilling rig. The K10 model uses the latest low-emission diesel technology. Its interior has also been designed for more ergonomic and safer work. The development of drilling technology will enable even deeper research with a smaller carbon footprint.
ADC has previously drilled a hole 1,714 metres deep. After this, every metre is a step into the unknown.
"Records are made to be broken, and new solutions need to be tested", says Pasi Heino, head of unit at GTK.
"We are conducting significant pioneering work and showing the strength of Finnish expertise", Autti confirms.
Diverse research
"Geological research is a long-term multidisciplinary activity and calls for a curious mind and courage. The achievements made in the Koillismaa Deep Hole project also show that there is strength in unity", says Olli Breilin, director of operative units at GTK.
The deep hole provides a diverse and internationally significant research and development environment for the study of geoenergy, geophysical methods, bedrock composition and mineral systems. Above all, it provides new information about the geology of Finland and, as a result, the Fennoscandian Shield.
"The multidisciplinary approach to deep bedrock research allows our partners to demonstrate and develop research technology and expertise in a whole new testing environment", Breilin continues.
In September 2020, the Koillismaa Deep Hole project started to drill a research hole reaching down to a depth of up to three kilometres. Drilling will continue at least until March 2021. Currently at a depth of 1,500 metres, the diamond drill advances at best, 45 metres into the bedrock per day, but drilling slows down the deeper it goes.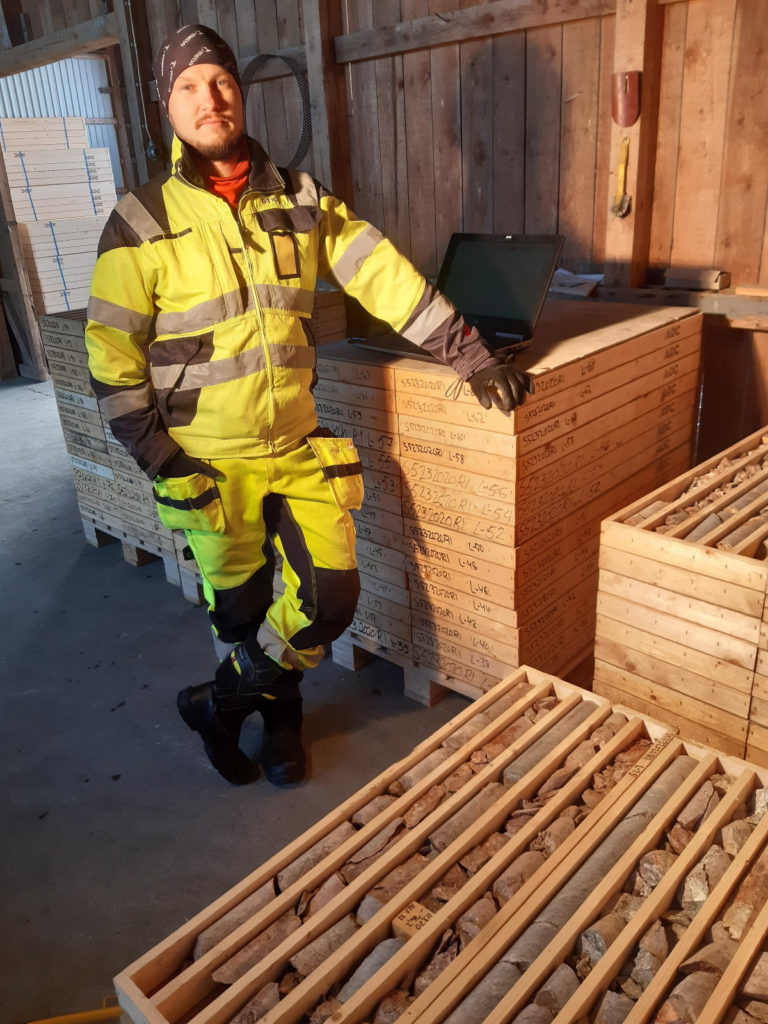 Additional information
Aleksi Salo, project manager, aleksi.salo@gtk.fi, tel. +358 29 503 342