Versatile Bentonite Materials Interest Researchers
Bentonite is an extensively used industrial raw material with versatile characteristics, on which its applications are based. GTK's bentonite material research focuses on the longevity and performance of bentonite materials in the disposal of radioactive waste in particular.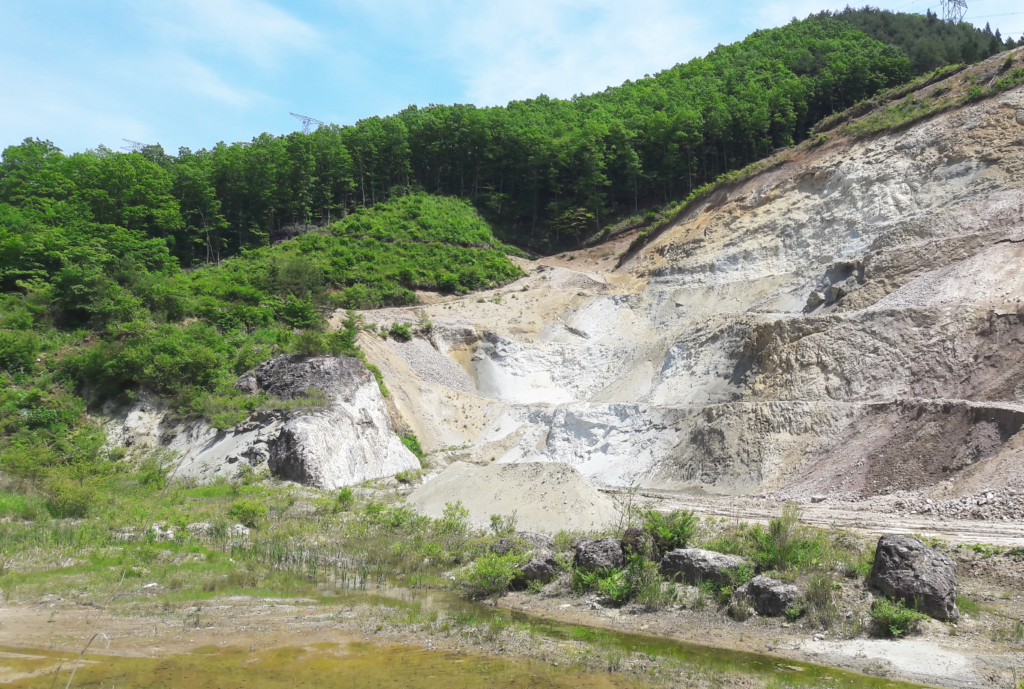 Bentonite is a general name for clays that consist mainly of smectite minerals, the most common of which is montmorillonite. Bentonite is formed over geological periods for example from volcanic ash originating from volcanic eruptions. The material was named after Fort Benton, a small town in Montana in the United States. The name 'bentonite' was first used in Fort Benton in 1890 to describe a local cretaceous tuff formation. Today, the word 'bentonite' is used more extensively in industry and geology to refer to all similar clays.
The Many Uses of Bentonite
Bentonite is used in many industries and applications such as the pharmaceuticals industry, food production, waste management and geotechnical solutions. Research at the Geological Survey of Finland (GTK) focuses on bentonite's longevity and performance in the most challenging of uses – radioactive waste disposal. "The key characteristic of bentonite for this use is its swelling capacity. When bentonite comes into contact with water, it swells and serves as a sealant. This makes it an excellent material for use in the disposal of spent fuel that must be sealed off in a repository and isolated from nature for a very long time", says Heini Reijonen, Chief Expert at GTK. Bentonite prevents waterflow in the sealed repository and envelops the capsules of spent fuel, protecting them against corrosion and possible rock movements.
Bentonite Studies at GTK
The international community is actively studying the different characteristics of bentonite materials in scales varying from field studies to laboratory studies. GTK's current research projects focus on bentonite as a material, natural bentonite deposits, other swelling clays, and methodology development related to clay research. For industrial processes, the aim is to provide faster, better, and more informative methods for studying these materials that are very fine-grained compared to other materials, making them more difficult to study. Variousnon-destructive methods (X-ray imaging, hyperspectral scanning) are used in this work, as they produce extensive data faster than the traditional random sample method.
GTK's current research projects focus on bentonite as a material, natural bentonite deposits, other swelling clays, and methodology development related to clay research.
Large Natural Deposits
The International Bentonite Longevity (IBL) project studies bentonite deposits in a Japanese bentonite mine. Research is conducted hundreds of metres underground to gain a better understanding of how natural bentonite behaves over extensive periods of up to millions of years. Thus far, GTK has used X-ray tomography to investigate the structure within natural clays. It is planned to investigate the suitability of hyperspectral methods for bentonite field studies in the future.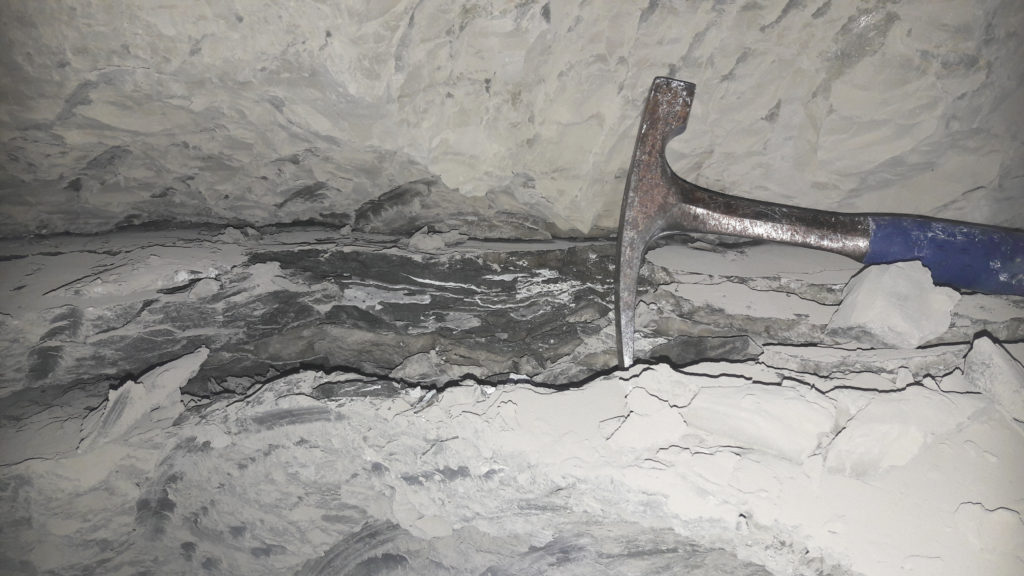 Small Occurrences in Bedrock
GTK participates in studying small deposits of swelling clays containing several smectite minerals found in the Finnish crystalline bedrock. The research is being conducted as part of the international BROCTIO project. GTK takes part in developing new research approaches to study the stability of the clay types and their role in the Finnish bedrock. Like the IBL project, BROCTIO also focuses on extensive periods. The key development conducted in the project involves SWIR hyperspectral imaging and VSWIR pointwise analyses. The aim is to create a workflow for surveying fracture surfaces. The results will be used to find new opportunities for conducting the surveys more reliably and efficiently in the future.
The results are promising, and there are multiple applications for them such as
the investigation of geological drill core samples and identification of rare alteration minerals
quality control procedures for clay-based materials
fieldwork studying clay in general.
Small-scale Studies in Laboratory
In addition to the above, the aim of the BROCTIO project is to collect 5D data (3D + time + temperature) on the swelling process of bentonite in the laboratory experiments to describe in more detail how bentonite acts as a sealant in bedrock fractures. Similar research is being conducted in the EU-funded EURAD-HITEC project, which is extensively studying the behaviour of clay at high temperatures. GTK is also collaborating with the University of Jyväskylä in a project analysing the wetting of bentonite material in high temperatures.
Utilising the Results
The bentonite projects support GTK's competence to participate in environmental projects and to develop applications for the use, quality control, and optimisation of bentonite materials. Different countries have different concepts for radioactive waste, which means they also have different requirements for materials.
The methods developed for bentonite can also be applied in other projects, such as mapping of weakness zones for underground building works. GTK is developing hyperspectral methods to study sedimentary rocks containing clay in connection with the development of the virtual drill core library, among other things. The pilot material includes a 1-kilometre drill core sample from the Muhos formation, which affords the opportunity to increase our understanding of the more than 1,200-million-year-old sedimentary formation (Jotnian sandstone, mostly schist and silt). Gaining more detailed information about the thick Muhos sedimentary formation will also support other studies being conducted in the region, such as studies focusing on the biochemistry of groundwater and geothermal measurements.
"The Muhos formation gives us the opportunity to apply our methods in the scale of kilometres, and the results can be used in international projects focusing on similar rock types. Although common elsewhere, sedimentary rocks of this type are rare in Finland. However, using new methods to study the Muhos formation may provide new information about the historical development of bedrock, which is poorly understood in terms of the geology of Finland", Reijonen says.
Further Information
The Finnish Research Programme on Nuclear Waste Management (KYT2022)
KYT-BROCTIO Bentonite-rock interaction project on the GTK website
Developing the National Digital drill Core Archive of Finland (NDCAF) Continues with Hyperspectral Imaging Campaign
IBL (International Bentonite Longevity) project
Influence of temperature on clay-based material behaviour (HITEC)