Designing for Circularity – Case Examples from Finland
Date: 01.06.2023 - 01.06.2023
Location: Online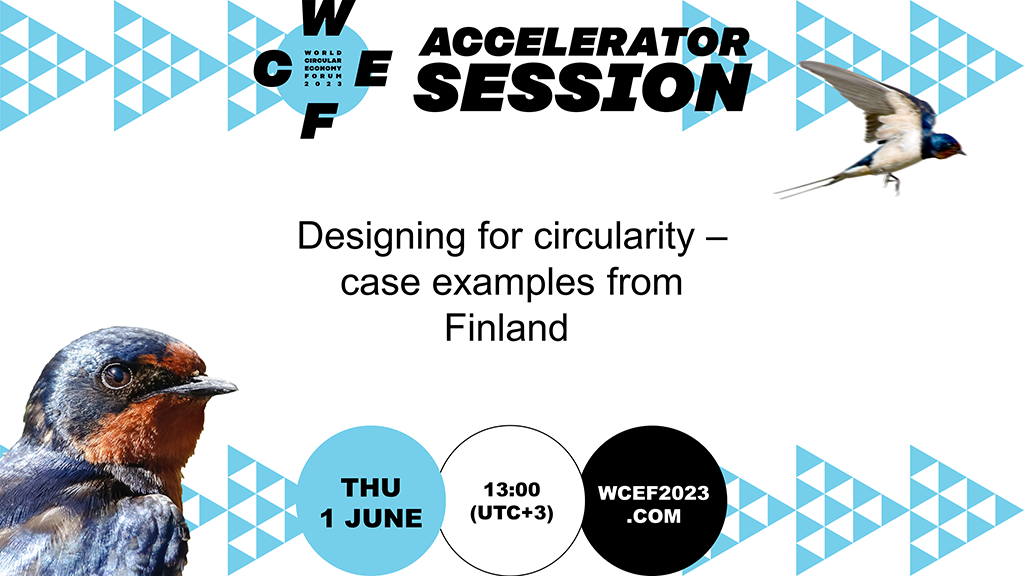 Up to 80 per cent of a product's lifetime environmental impacts are locked in at the design stage. Learn how the Finnish forerunner companies apply circular design in minerals, textile, and food industry as well as in chemical products and processes.
Join the webinar to learn from concrete case examples
How to innovate and develop disruptive circular-by-design concepts and operations?
How to support their piloting, demonstrating and upscaling?
The session is open to everyone but especially targeted to designers, business leaders and policy makers.
Date: Thu June 1, 2023 at 13-14 (UTC +3)
This webinar is an Accelerator Session at the World Circular Economy Forum 2023
Programme
Introduction to circular design
Break up to parallel session (These sessions are held at the same time and you can attend only one of them.)
1. Chemical products and processes – Circular and sustainable chemical solutions by design
Case Kiilto Oy
A construction chemicals, industrial adhesives and fire proofing solutions provider, presents their circular design approach to product design, enabling new sustainable business and opportunities for their customers.
Dr. Raija Polvinen, Chief Ecosystem Officer from Kiilto Oy,
Discussion
Wrap up and key take aways
The session is hosted by VTT
2. Minerals industry
Case: This is how we apply Tapojärvi's circular economy thinking in the Kolari mining project
Jaana Koivumaa, Manager, Hannukainen Mining
Discussion
Wrap up and key take aways
The session is hosted by Geological Survey of Finland GTK
 3. Textile industry: from circular raw materials to reuse
Case 1 Nordic Bioproducts Group Ltd
Nordic Bioproducts Group (NBG) is a company founded in 2019 with roots in Aalto University. NBG develops and commercializes cellulosic biomaterials, many of which are based on the patented Aaltocell™ technology. NBG has also developed a new type of wood-based and sustainable textile fiber, Norratex, targeting the international man-made cellulosic fiber market.
Olli Kähkönen, CEO

Case 2 Emmy Clothing Company Ltd
Founded in 2015, Emmy Clothing Company is the market leader in Finland & Estonia, and currently the largest independent second hand fashion e-commerce company in the Nordic countries — with over 90 000 quality-checked brand apparel online.
Timo Huhtamäki, CEO

Discussion
Wrap up and key take aways
The session is hosted by Aalto University and Finnish Environment Institute Syke
4. Food – Towards zero. With design and cascade processing to minimal waste in food system
Case Valio
Forward looking aspects of the future food system transition and the role of design. Cascade process and case examples, how to minimize waste and at the same time co-create innovative solutions enabled by circular economy
Discussion
Wrap up and key take aways
The session is hosted by Natural Resources Institute Finland
The webinar is arranged by: