Sharing Open Data Produces Shared Benefits – City of Oulu
In the Oulu region in Northern Finland, acid sulfate soils present a permanent risk in land use planning and construction design. Cooperation between the City of Oulu and the Geological Survey of Finland (GTK) seeks correctly timed and easily accessible use of soil and site investigation data.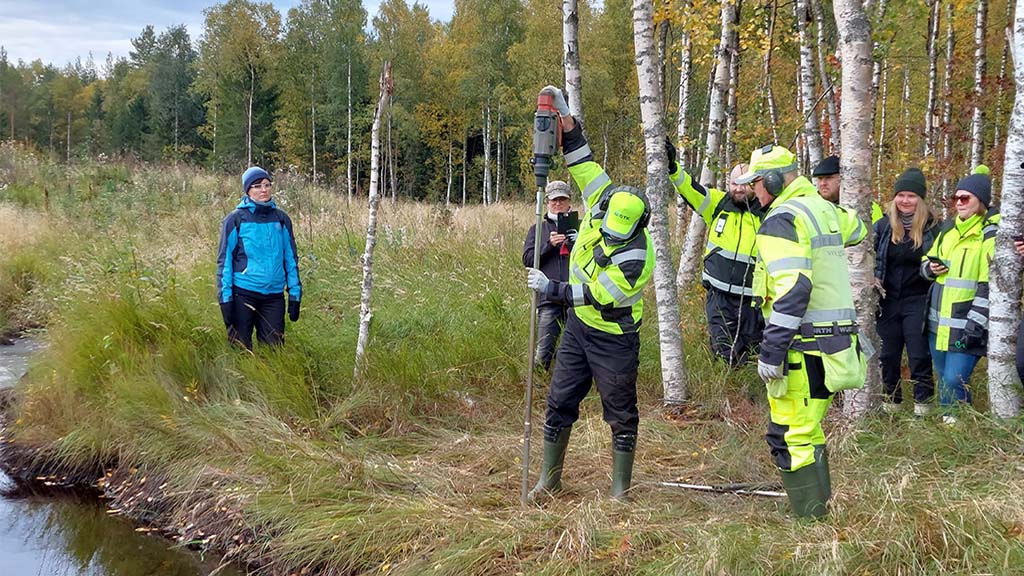 Persistent Adverse Environmental Impacts and Financial Risks – Sharing Open Data Solves Both Problems
GTK and the City of Oulu have been engaged in long-term cooperation in mapping site-specific deposits, types and risk management for acid sulfate soils. The region of Northern Ostrobothnia and especially its coastal areas have some of the largest occurrences of acid sulfate soils in Finland.
In the ongoing HASUdigi project, the aim is to collect soil and site investigation data by GTK, the City of Oulu, other public organisations and companies to save them in a single location and share the data openly for further use. Sharing data openly would benefit all regional operators.
Challenge
How to Predict Consequences During the Planning Phase?
The City of Oulu, in cooperation with GTK, has acted as the region's driver in piloting surveys and analysis methods for acid sulfate soils. In the growth-driven city, the impacts of acid sulfate soils extend to many areas: land use planning, water protection, construction, supervision, and the profitability of construction. The most challenging situation is faced when data about acid sulfate soils is obtained only during the very end of the planning process.
'Of course, increased data present more challenges. They require more detailed planning, and unfortunately more expensive building solutions in some cases. Our hope is that specified data will help us avoid the most challenging locations during the land use planning phase,' says Merja Talvitie, Project Engineer at the City of Oulu's Municipal and Environmental Services.
Actions
Using Open Data and Training Local Operators
In the Oulu region, local operators have long and extensive experience with "black clay" and all the risks it entails. Surprises are still unavoidable. Acid sulfate soils have been found in peatlands and among coarser soil types where no findings have previously been made. In the HASUdigi project, the goal is to make the data saved by public and private operators in their systems easily and openly available to all in one single place.
'Through cooperation, we seek more information, more competence and better use of existing data. For example, repairing environmental damage is always more difficult than identifying it in advance. Currently, data are available in massive volumes. The challenge is to have the data available early enough and in easily accessible format so as to provide real benefits,' says Talvitie.
Providing training for local construction companies and civil servants is a key part of the project. Considering construction and land use planning, it is essential that the best options are chosen for each specific location. Even unwanted findings are easier to accept if the data have been available when making decisions.
Going Forward
What Does Open Data Sharing Achieve?
In many ways, acid sulphate soils are an unknown factor in urban construction. Cooperation will still be required before established practices can be spread across the sector. Before long, it will certainly be necessary to build sustainable solutions in certain areas, regardless of acid sulphate soils. Guidance is needed for residents and businesses alike. GTK is investigating how the ground survey service's datasets could be used in more diverse ways to share data.
Why GTK?
What other organization have such volumes of data? Speed and expertise have been real advantages in our cooperation with GTK. These were also key factors for us when selecting a partner.

Compared with other operators, GTK is independent and has the resources required to react quickly to changing situations. Their responses are always based on research and knowledge, which increases confidence and understanding especially in unexpected circumstances. When you contact GTK's experts, you know how things will progress from there on.

‒ Merja Talvitie, Project Engineer, City of Oulu
You might also be interested:
More on GTK's services: