Strategy 2024-2027
In tomorrow's world, the need for carbon neutral energy and carbon sinks will increase, the self-sufficiency of raw materials and other materials will be emphasised, and environmental impacts must be taken into account more strongly. Technology and knowledge enable new innovations.
With our strategy, we are developing solutions to accelerate the transition to a sustainable carbon neutral world. We are a pioneer in research into the availability of mineral raw materials and the circular economy, as well as in promoting reliability of supply. We promote the sustainable use of groundwater and the sustainability of mining operations, accelerate the increase in the proportion of low-carbon energy and produce information for the benefit of the sustainable use of the environment. We apply high-level geophysics and geoscience information in a crosscutting manner. As a result, we produce customer solutions, science and innovation, and new geoscience information.
Our values are the cornerstone of our operations. Expanding the funding base and using technology are important for achieving the goals of the strategy period. People are at the heart of our strategy. We work for the generations of the day after tomorrow, and we want to create a human-centric working life. This means that current and future GTK people belong to a community of the best experts in their field, in which a coaching culture, continuously developing skills, smoothness of work and cooperation are fostered.
We work for Earth and for Us.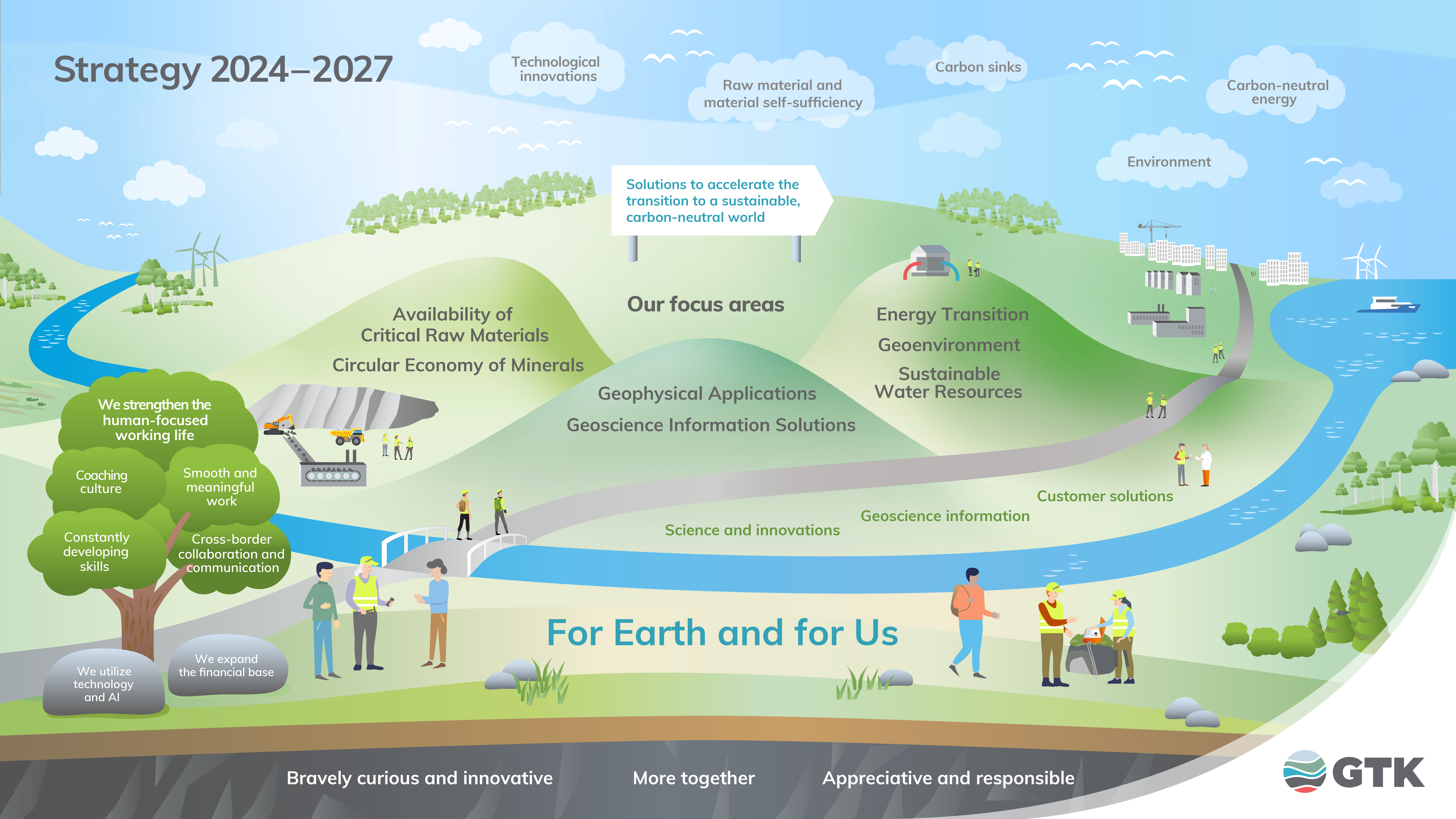 Focus Areas
The focus areas of GTK's strategy help to create a sustainable world for both the environment and people. The strategy for 2024-2027 has seven focus areas:
Availability of Critical Raw Materials
Circular Economy of Minerals
Energy Transition
Geoenvironment
Sustainable Water Resources
And two cross-cutting focus areas:
Geophysical Applications
Geoscience Information Solutions
Read more about our research activities and services.
Elements of Success
The key to the success of our strategy is our values and our culture. Read more about our values and culture on their own page.
In addition, we have identified the elements with which we ensure the successful implementation of the strategy:
We strengthen the human-sized working life. By building a human-focused working life, we strengthen our position as one of the world's best in our field.

We expand the financial base. We are actively expanding the base of our financing and attracting a growing revenue stream.
We utilize technology and artificial intelligence. We harness technology and artificial intelligence even better to develop our own operating methods and services.