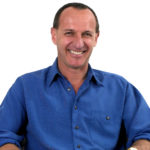 Dr Gregor Partington, Managing Director, Kenex; Operations Manager, Duke Exploration
Title of the Talk: Outcomes from Using Mineral Potential Modelling as a Tool to support Decision Making in Mineral Exploration and Resource Development
Dr Gregor Partington is the Managing Director of Kenex and Operations Manager for Duke Exploration. The businesses he has created are focused on creating business opportunities through the application of spatial and predictive modelling. He has been involved in mining and exploration in Australasia for 40 years and has experience in discovery and development of projects for gold, copper, silver, tin, tungsten, tantalum, lithium and PGE metals.
His presentation will discuss the current status of Mineral Potential Modelling and it's use by the mineral exploration Industry, which is the target for much of the current research into Mineral Potential Modelling. Two case studies will be presented from two different parts of the mineral exploration and development value chain that provide examples of how Mineral Potential Modelling can be used to aid decision making in finding and developing new opportunities, de-risk investment decisions and speed up the discovery and development process.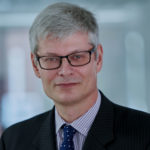 Dr Jon Hronsky, Principal of Western Mining Services (WMS); Adjunct Professor, Centre for Exploration Targeting, the University of Western Australia
Title of the Talk: Mineral Exploration Targeting and Prospectivity Analysis – A Practitioner's Perspective
Dr Jon Hronsky has more than 35 years' experience in the mining and exploration industry. He is currently a Principal of Western Mining Services (WMS), a consultancy group that provides strategic-level services across the global mineral exploration industry. Previous roles included Manager of Strategy and Project Generation for BHP's global mineral exploration group and Chief Geoscientist for WMC Resources. Jon is an Adjunct Professor at the Centre for Exploration Targeting at the University of Western Australia. He is a Director of several ASX mining companies, and is also a partner in Ibaera Capital, a mining-focused private-equity fund. In 2019, he was awarded the Order of Australia medal for services to the Mining Industry.
Jon's talk is about providing a practical perspective on Mineral Prospectivity Analysis and Exploration Targeting. An interesting aspect of this topic is that the people that care about this can be divided into two communities. The first group are those who actively work in the business of Mineral Exploration whereas the second group are those who work to develop the methods, particularly from a data integration and analysis perspective, that they believe are applicable to this field. The latter community are largely based in academia or government geoscience organisations. The industry-based community tends to view much of the academic literature on this topic as having little relevance whereas the academic community generally have little experience or knowledge of the real-world constraints on the application of their methodologies.
This talk attempts to bridge this gap by sharing the perspective of an actual practitioner in the field of Exploration Targeting. This perspective is informed by several decades of experience in this field, in a diverse range of commodities and exploration environments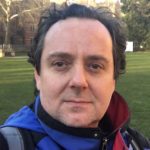 Dr Carlos Roberto de Souza Filho, Professor, Institute of Geosciences (IG), University of Campinas (UNICAMP)
Title of the Talk: GIS-based Mineral Prospectivity Analysis: A Critical Review
Dr Carlos Roberto de Souza Filho is a Full Professor at the Geology and Natural Resources Department, Institute of Geosciences (IG), University of Campinas (UNICAMP), where he acts as the leader of the Geotechnologies Research Group. He is at the highest rank as a researcher of the National (Brazilian) Science Foundation (Level 1A, CNPq) and is a full member of the Brazilian Academy of Sciences. He pioneered the foundation of several research laboratories, including those related to infrared reflectance and emissivity spectroscopy, remote sensing and digital image processing; GIS and spatial data analysis.
Carlos' current research focuses on the mining industry and comprises the use of a wide range of geotechnologies, with emphasis in spectroscopy, remote sensing, geophysics and GIS-based data integration and spatial analysis, applied to study various commodities, including Cu-Au (IOCG), Au, Fe, Ni, REEs and U deposits in Brazil and overseas. At MinProXT 2021 Webinar, he will provide a review of the current state of the art of GIS-based, and advanced machine learning-based mineral prospectivity analyses methods in relation to the above topics.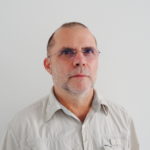 Dr Andreas Barth, Managing Director of Beak Consultants GmbH
Title of the Talk: Mineral Predictive Mapping (MPM) – From Intuition to Quantitative Hybrid 3D Modelling
Dr Andreas Barth is an exploration geologist and geochemist. His passion is the understanding of mineral-forming processes and metallogeny as preconditions for effective exploration strategies. After cumbersome, mostly manual work in the 1980s, in the 1990s and the 2000s, the fast development of information technology made statistics, GIS and AI methods available for big data processing. Since 2000, Dr Barth has focused towards the development of effective data management systems and later towards the application of AI methods for analysing geological data. Consequently, since 2008, this led to the development of Beak Consultant's workflow oriented advangeo® prediction software for easy access to AI technologies in a common GIS environment. Since 1994, Dr Barth is the Managing Director of Beak Consultants GmbH.
In his talk, Dr Barth guides the audience through the long history of mineral predictive mapping from the earliest recorded sources through the empirical knowledge of the famous Agricola, the (manual) metallogenic approach of the 20th century, the wide use of simple GIS technologies at the end of the 20ies century, and finally, to the machine learning algorithms at the beginning of the 21st century. Dr Barth illustrates his talk with many use cases from the literature and his own experience.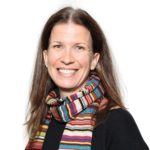 Dr Nicole Januszczak, Global Practice Lead Mineral Systems, BHP
Title of the Talk: Beyond Prospectivity Maps: Tackling the Growth Challenge Facing the Mining Industry with the Application of Mineral Systems
Nicole joined BHP in 2020 as Global Practice Lead Mineral Systems for the Resource Centre of Excellence, based in Toronto, Canada. Prior to this she held a number of senior positions at De Beers Group including Senior Exploration Manager for the Americas. She has a Ph.D. degree in geology from the University of Toronto. Dr. Januszczak has over 20 years of experience predicting, targeting and exploring for minerals and metals in diverse cultural and geographical regions around the world.
Nicole will be talking about how we can use mineral systems in predictive modelling and prospectivity analyses to tackle the growth challenge facing the mineral exploration industry. We live in a unique time in the history of humankind when wrestling with terabytes of data is becoming increasingly commonplace. Realizing the value out of all that data requires viewing it through the lens of mineral systems, which when applied across the scale of business decisions to be made, greatly enhances our ability to predict and detect future resources under cover.