Advanced Spatial Data on Agricultural Peat Soils in Finland (MaaTu)
Project research area

Project duration

01.07.2021 - 30.11.2023
Introduction
The organic agricultural soils in Finland produce 50-60% of the greenhouse gas emissions of the agricultural sector, although their area is only 10% of the total agricultural area (Statistics Finland). Emissions originate mainly from the lowering of the water table – drainage of the fields– which leads to decomposition of organic matter and to subsequent carbon dioxide (CO2) and nitrous oxide (N2O) emissions. At peat soils with high carbon content, the emissions can be particularly high, and the reduction of these emissions with targeted measures require field parcel specific soil information and mitigation measures.
The MaaTu project produces refined spatial data on the occurrence and depth of peat soils using remote sensing, empirical field data, and machine learning methods. The produced spatial data will be map-based, and it allows the identification of field parcels with peat soils, as well as the implementation of field parcel specific mitigation measures. The produced spatial data also improves the research opportunities on peat soils. The project also produces statistical data on agricultural use of peat soils.
The project is implemented by the Natural Resources Institute Finland, the Geological Survey of Finland, the National Land Survey of Finland, and the Finnish Food Authority. The project spans over three years: 2021-2023.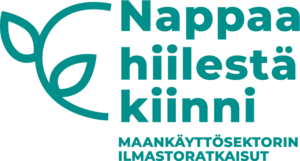 Return to projects