GTK is a great place for creating a career
Vasilisa Polichtchouk
Senior Specialist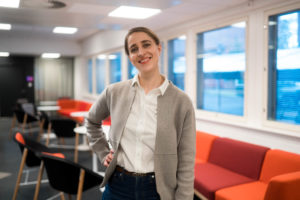 Vasilisa Polichtchouk has worked at GTK for 7 years, and during that time, she has held various positions from financial administration of projects to knowledge management development.
"Right now, I work in a project related to knowledge management development. We are creating a tool for BI analysis that combines information from multiple sources and that can be used to support decision-making. The goal of knowledge management is to move toward more knowledge-based and better decision-making processes", says Vasilisa.
Working at GTK is a perfect fit for Vasilisa.
"I have been able to make full use of my language skills in my work. I get to use Russian and English, for example. GTK is an international organisation and knowing multiple languages comes in handy when working with our projects. I felt at home in Otaniemi and Espoo right from the start – them being calmer than the city centre of Helsinki. I have also loved nature and rocks since I was little. My father also worked with ores. That is why I feel that working at GTK is in line with my personal values", says Vasilisa.
At GTK, Vasilisa has been creating a career best suited to her.
"I have been able to switch jobs internally. I have moved from working as a planner in GTK's financial administration to working as a project manager in knowledge management. From there I advanced to my current position as a senior specialist in knowledge management and goal-setting. GTK is a great employer for those who want to create a diverse career within it", says Vasilisa.
Vasilisa thinks the best thing about GTK is the sense of community.
"Working with the geologists is easy and social interactions pleasant. We have a lot of sport events, like the Geoturnaus tournament, and we also go orienteering and play floorball and badminton. Informal interaction between colleagues makes our interpersonal relationships stronger. Cooperation with my closest co-workers is effortless, things run smoothly, and we get things done. We never have to bang our heads against a wall. Everything can be sorted out and we can concentrate on always moving forward", says Vasilisa.
Vasilisa feels that GTK provides excellent opportunities for personal development.
"I have had the opportunity for extensive personal development. I have worked in a variety of international projects. Right now, I'm studying toward an MBA while working. I think it's fantastic that GTK makes it possible for me to hone my leadership skills further."
Vasilisa appreciates that GTK provides opportunities to learn new things, for example about AI or digitisation.
"I feel proud when I'm able to combine my knowledge of different things extensively in my work. I have also been able to see all levels of management. GTK has always been an international work environment, and globalisation has only increased that. As a workplace, GTK is open, welcoming, responsible and future-oriented", Vasilisa goes on to say.
Vasilisa thinks GTK is perfect for social and nature-loving people.
"I recommend GTK as an employer to anyone who loves our nature. GTK is a great fit for people who adapt to different social situations easily and like seeing things through – even under pressure", Vasilisa concludes.