Highlights of Our Year
Research Investments
The Koillismaa Deep Hole project was started in September in Southern Kuusamo. In the project, a 3-kilometre deep hole will be drilled, which will provide GTK's units and partners with a unique deep hole environment for research and development projects. Due to its scale, the project is a significant RDI investment. Other significant investments in 2020 include several new pieces of research equipment, such as the procurement of a microanalyser and the geophysical MT equipment for the Espoo research laboratory.
> The Koillismaa Deep Hole – A Multidimensional Investigation
> Has the geological mystery in Koillismaa been solved?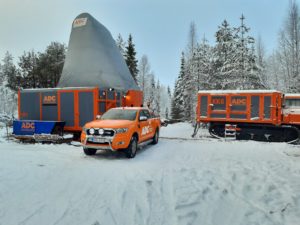 Development of GTK Mintec
The development GTK Mintec into a world class research and development platform for materials for the circular economy and mineral-based materials advanced significantly last year. The additional funding of EUR 2 million granted from the government supplementary budget and the procurement of next-generation flotation cells expedited the renewal of the laboratory and pilot plant complex.
> Additional funding for GTK Mintec is proposed in the Government´s supplementary budget
> Pilot plant acquires next-generation froth flotation cells
> Digital Twin of the GTK Mintec Pilot Plant – For Customers and for Us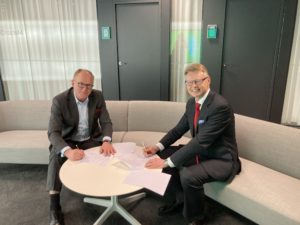 World Class Geodata Sets
Geodata sets produced by GTK were ranked among the best in the world in the Fraser Institute's Annual Survey. The digital geodata sets and services of the Geo.fi website were developed further. The Geo.fi website is a centralised interface service for browsing and downloading geological documents and geospatial data products. It also includes an online store for data products.
> Finland's geodata sets are among the best in the world
> Geological datasets for the benefit of our customers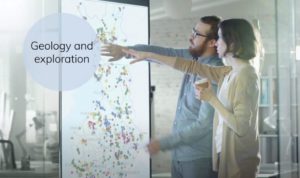 The Circular Raw Materials Hub Started Its Operations
The joint laboratory of GTK, VTT and Aalto University in Otaniemi started operations in early 2020. The CRM Hub is an innovative interdisciplinary research infrastructure platform. The challenges of the circular economy and sustainable growth are solved through close cooperation between researchers and companies.
> A joint laboratory of circular economy was opened in Otaniemi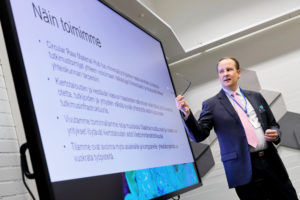 Occupational Safety and Location Independent Work First
The extraordinary year sped up GTK's internal renewal efforts in two key areas: the development our organisation's occupational safety culture and the implementation of the GTK 2.0 change programme. By renewing its occupational safety culture, GTK aims to strengthen its operational capabilities both in terms of its personnel and its customers. The shift to remote work provided GTK with the opportunity to become a pilot organisation for the implementation of the location independent work included in the government's plans for the future. New working methods will be tested in an agile manner during the pilot year of the change programme in 2021.
> A new way of working: Geological Survey of Finland to become a pioneer in developing multilocational work and working methods in central government