Summer Internship
GTK offers summer intern positions for students in geology and environmental science. The application period for our summer intern positions is open in January-February.
What do we offer?
Expert guidance. Our experts will thoroughly familiarize you with your work, share their knowledge and skills and support you throughout your internship.
Interesting and diverse work tasks. With us, you can dive into the field of geosciences on a wide scale and do different work tasks according to your interests.
Appropriate challenges and responsibility. You will certainly develop as a professional. We trust your expertise and challenge you to learn new things.
A supportive and nice work community. Our work community and atmosphere has received a lot of praise from interns in recent years.
Some of the internships offer a possibility to work on the master's thesis.
Our summer internship is popular: we received 634 applications in 2023. Of those applicants, we hired 27 for the summer.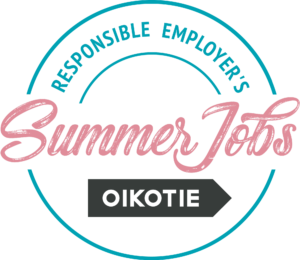 Responsible employer's summer jobs
GTK is part of the Oikotie Responsible Workplace -community (=Vastuullinen työpaikka) – a group of organizations that have come together and embrace the seven principles of responsible employment.
Follow the work of our interns
Summer interns carry out field work all over Finland and tell us about their everyday work. Follow us on GTK social media channels –especially the posts with #GTKpeople.