Practical guidelines for application of the UNFC resource code
Geological Survey of Finland has published guidance on mapping of current and historical mineral inventories into United Nation Framework Classification of Resources (UNFC) in Finland. The report provides the criteria of classification for various commodities through a variety of case-examples from active and non-active projects. Thus, it provides guidance to the Geological Survey of Finland (GTK) personnel, and everybody else, to help in mapping public mineral resource and reserve data, as well as for classifying non-compliant and historical estimates into the UNFC code.
The United Nations Framework Classification for Resources (UNFC)
The UNFC-2019 code provides a global communications tool that transcends language, commodity type and extraction methodology. This harmonised classification provides an effective management tool for national resource endowment and accounting. It also gives a coherent mineral resource and reserve terminology that aids in transparency and improved comparability of assessments of mineral resource assets. This further provides a possibility for more informed and efficient investment decisions.
The United Nations Framework Classification for Resources (UNFC) is a universally acceptable and internationally applicable scheme (i.e., a code) for the sustainable management of all energy and mineral resources. It has been designed to meet the needs of applications relating to: 1) policy formulation based on resources studies, resources management functions, corporate business processes; and 2) financial capital allocation (UNECE 2009, 2015, 2019; Lax et al 2017).
The UNFC allows for effective management of national resource endowments and socio-economically efficient development of the mineral and energy resources contributing to sustainable development. Its use is currently expanding globally, as bridging or conversion documents between the UNFC and several national resource codes have recently been developed. It also allows a direct comparison of projects that extract primary energy fuels, such as oil, gas, coal and uranium, with renewable energy projects. UNFC doesn't include rules governing public reporting of estimates. Therefore, it is not accepted for reporting on any stock exchanges and consequently is unlikely to be taken up by large publically-listed companies. Whereas the CRIRSCO family of codes are designed for public reporting and to help to protect investors. A simple bridging scheme is available to convert the CRIRSCO-compliant resources and reserves into UNFC resource categories.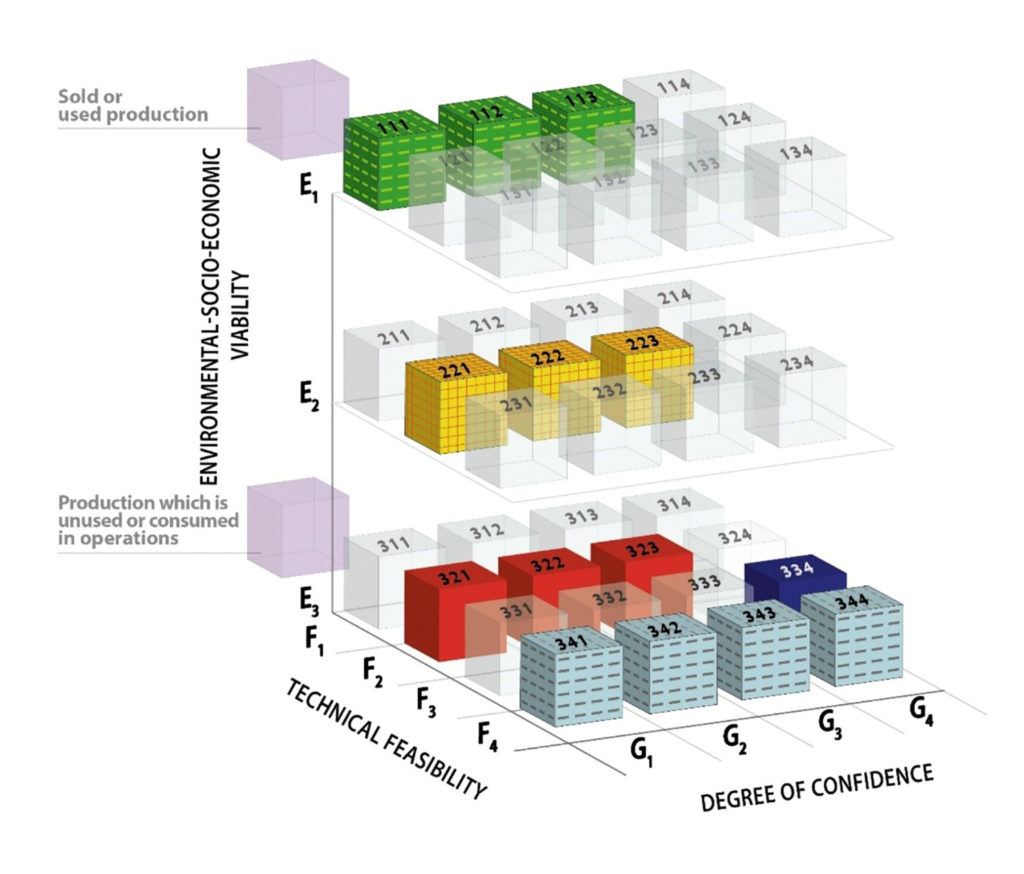 Implementation of UNFC
Essentially, the aim of classifying (or mapping) existing mineral resources and mineral reserves into the UNFC is to harmonise the existing information and to give resource coding also to cases where the current industrial standards cannot be applied for. The purpose is not to re-assess or re-evaluate existing resources, nor, for example, to forecast changes in exploration and mining permitting. The active projects, which have been reported in accordance with the CRIRSCO template, can be bridged across to UNFC using the existing Bridging Document. Whereas for non-active projects or historical projects, the disclosed information are, mostly, no longer valid due to several reasons and must be re-classified according to the current project maturity. The originally reported quantities and grades should always be the same before and after classification.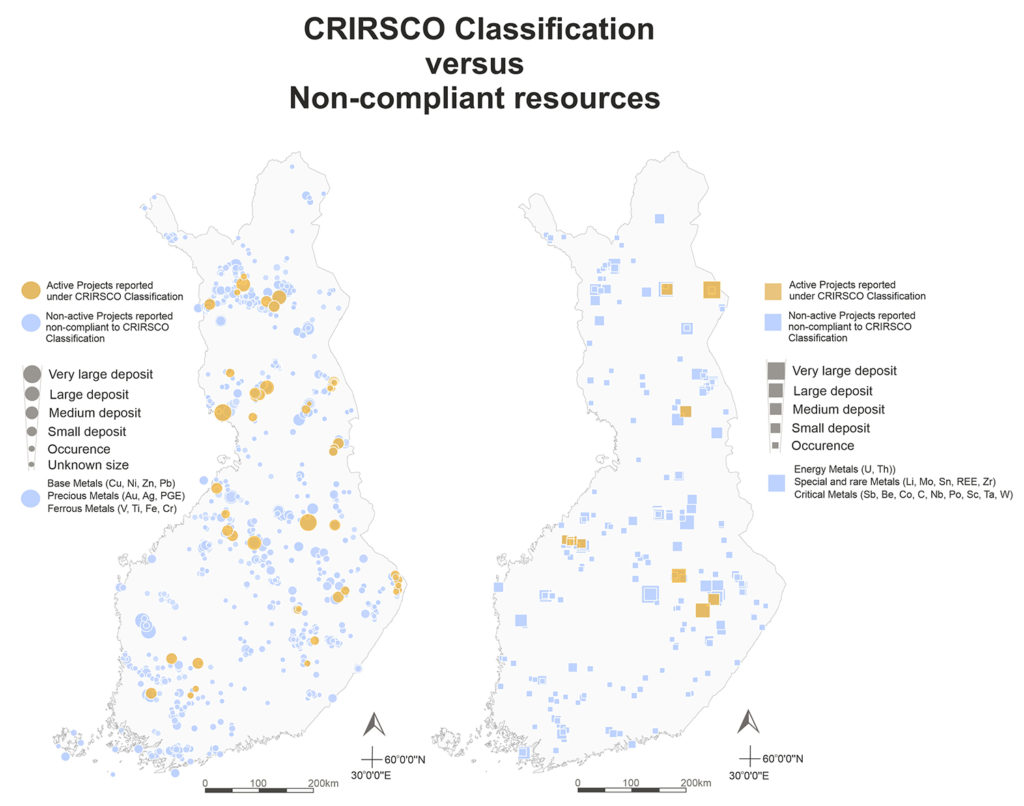 The systematic approach to classifying mineral quantities into the UNFC also provides a coherent mineral deposit database that enables to communicate project maturity, uncertainties and risk factors inherent in mining and exploration projects. In practice this means that, during 2021, the UNFC categories will be available in the Mineral Deposit Database of Finland for all occurrences and all mineral commodities. This will serve as part of effective management of national resource endowment (mineral resources accounting) and facilitate mineral resources-related communication at local, regional, country- and EU-wide to global scales.
Mineral Intelligence for Europe (Mintell4EU)
The GTK is participating in Horizon 2020 funded three year project called Mintell4EU. GTK is one of the nine partners currently investigating how the UNFC code can be used as a tool to obtain more accurate Pan-European mineral inventories providing better harmonisation of minerals resource data in Europe. An eventual implementation of the UNFC as a standard tool will thus provide better insights into the European stocks "in the ground" and potential for, e.g., critical raw materials, and their possibilities for future supply from European sources to European industries.
The aim of the ongoing UNFC Pilot (a Mintell4EU work package) is to:
• Demonstrate how the UNFC is applied
• Show how the application of the UNFC will provide better harmonisation of mineral resource data in Europe, and to demonstrate the strength of the UNFC     as a tool for more accurate Pan-European mineral inventories
• The work is case study based, but aimed to be Pan-European in nature; it covers the range of solid mineral resource types
GTK expects that the published guidelines will assist professionals, institutions and states to improve their mineral resource mapping towards a more harmonised national natural resource management across the EU.
GTK also offers training for the topic, in order to help in its implementation, both in Finland and abroad.
References
UNECE 2009. United Nations Framework Classification for Fossil Energy and Mineral Reserves and Resources 2009. United Nations Publication, ECE Energy Series 39. New York and Geneva, United Nations. 20 p. Online: www.unece.org/fileadmin/DAM/energy/se/pdfs/UNFC/unfc2009/UNFC2009_ES39_e.pdf
UNECE 2015. Bridging Document between the Committee for Mineral Reserves International Reporting Standards (CRIRSCO) Template and the United Nations Framework Classification for Resource (UNFC). UNECE Energy Series No. 42. 6 p. Online: www.unece.org/fileadmin/DAM/energy/se/pdfs/UNFC/UNFC_specs/Revised_CRIRSCO_Template_UNFC_Bridging_Document.pdf
Lax, K., Ingvald, E., Persson, B., Brinnen, K., Makkonen, H., Hokka, J., Aslaksen, K.A., Heldal, T., Blystad, P. & Heiberg, S. 2017. A guidance for the application of the UNFC-2009 for mineral resources in Finland, Norway and Sweden, EGRC-8/2017/INF.8, Item 14: Case studies and testing of UNFC-2009. Online: www.unece.org/fileadmin/DAM/energy/se/pdfs/UNFC/UNFC-Nordic-Guidance-Public-Comments/20170424_A_guidance_for_the_application_of_the_UNFC.pdf
UNECE 2019. United Nations Framework Classification for Resources, Update 2019. UNECE Energy Series 61. 20 p. Online: www.unece.org/fileadmin/DAM/energy/se/pdfs/UNFC/publ/UNFC_ES61_Update_2019.pdf
Text: Janne Hokka
Janne Hokka (MSc, EuroGeol) is a resource geologist in the Mineral Economy Solutions Unit at GTK. He has been working for the Geological Survey of Finland since 2012. Janne provides client services in 3D modelling, QAQC, mineral resource estimations and resource audits. His current research interests are in VMS Mineral Systems in Finland which are part of his ongoing doctoral studies. During his career Janne has worked as exploration geologist in Finland, Africa, Middle-East and Australia in different exploration and mining related projects.